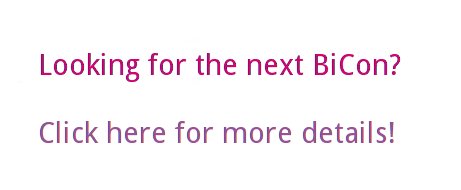 BiCon 98
Registering for BiCon 98
---
Part One - Your registration
Your name: .................................................

Address :  .................................................
   
           .................................................
           
Phone?:    .....................   Email:  .................



Please CIRCLE the appropriate figure for the registration fee and/or 
the room you have chosen on the table below. If you are in Band A 
please do not forget to include proof of status (e.g. photocopy of 
NUS card).

Band		Registration	Cost per room 	  1 Day pass

				per night	  (Nonresidential)
	        Pre-Pride Post	S   D	SE  DE	  

A (NUS/UB40)	15	   20	15  30	25  40	  7
B (< 12k p.a.)	20	   25	20  35	30  50	  12
C (< 18k p.a.)	25	   30	25  40	30  55	  15
D (< 25k p.a.)	35	   40	30  45	35  60	  20
E (> 25k p.a.)	40	   45	35  50	40  65	  25

Please circle your second choice of room type if the 
first is not available:         S	D	SE	DE

For which nights do you require accommodation?

Thursday [ ]  Friday [ ]  Saturday [ ]  Total no. of nights: ....

All breakfasts will be English (cooked). 
Do you want the vegetarian option?     Yes [ ]    No [ ]

DOUBLE ROOMS ONLY:

I wish to share with ................................

Total cost of registration:                 £.........

Total cost of accommodation:                £.........

Total sum enclosed                          £.........

I am / am not enclosing 3 post-dated cheques with this form
(dated today, 31/7/98 and 31/8/98)



I am / am not making a donation to Bicon of £......... 
(cheque enclosed)



I would like to be considered for a hardship fund refund 
if possible - yes / no

Part Two - About your needs
Please fill in any of the following needs which you would like us to know about, or write a separate note. It would also be helpful to have your phone number if you do tick any of the boxes below.

Are you able to offer any of these voluntary services to Bicon? 
(FOR WORKSHOPS, SEE OVER):

BSL signing [ ]   Counselling        [ ]      Child care [ ]
First aid   [ ]	  Help to organisers [ ]

Do you require any of the following? (tick all that apply) - 

Child care facilities [ ]   Sign language interpretation [ ]   	
Wheelchair access     [ ]   (which language?)            .......
Car parking space     [ ]

Is this your first Bicon?        Yes [ ]              No [ ]
(if yes, we'll send you some special information)

Is there anyone you'd like to be near to in the room allocation?

................................................................
Now send this form plus a cheque or P O made payable to Bicon to: P O Box 3xx, Cambridge CB5 8FJ.
REMEMBER THAT THE CLOSING DATE FOR ACCOMMODATION BOOKINGS IS
FRIDAY 21ST AUGUST 1998!!
Pages © Copyright BiCon, 1999. This page updated at 20:55 12/Feb/99, BiCon 98 email address removed.

BICON® is a registered trade mark of BiCon Continuity Ltd, and is used with permission.